A juicer in a modern kitchen is as essential as a cooktop. You can't just rely on the juice vendors as you might not know how they maintain the hygiene.
And the packed juices harm more than they'd benefit anyone. It is quite necessary to have a juicer in your kitchen to get fresh fruit and vegetable juice whenever you want.
Before going to the market and buying one for yourself, you need to take care of a few things so that you get absolutely the best deal. Here are a few things that you should know about the juicers, their types, and what should you consider when getting a new one. Then you can have a look at the list of 10 best juicers and get one of them.
Why Buy a Juicer?
This is the most basic question one would ask before buying a juicer. With the change in our lifestyle, we often forget to have fruits which tend to provide us with some essential nutrients. Once you have a juicer at your home, it will come handy for you to easily have fruit juice in your breakfast. The modern juicers are quite easy to operate and you find yourself enjoying using the machine.
The other thing to notice here is the hygiene. The fruit juice available in the market on open stalls isn't hygienic at all. You don't know how the vendor has prepared it or how the fruits were.
On the other hand, the packed ones contain more of water and sugar than the actual fruit leaving them good for nothing. The juicer at your place will help you get hygienic fruit juice whenever you want without having to worry about the quality.
Things To Remember While Buying a Juicer
Before you are going to buy the juicer, you need to look into a few things. The juicer should fit perfectly to your needs and for that, first you should know what you want from the juicer. Here are a few things that you must consider.
The type of fruit or vegetable you plan to juice
For picking the juicer of your choice, you must know what you will be juicing. If they are going to be those soft citrus fruits or vegetables or even the leafy greens. The masticating (slow squeezing) juicers tend to be better than centrifugal ones at managing the vegetables, especially the leafy ones.
The juicer's yield
Here, you need to consider both the amount of juice it can make and the time it would take. The masticating (slow squeezing) ones are better at extracting more juice from the fruits and vegetables but are also slower than the centrifugal ones.
How easy it is to assemble/disassemble and clean the juicer
As a general notion, the juicer should be easy to assemble and operate. More importantly, you must be able to easily disassemble and clean it after you're done juicing. Assembling and disassembling is a thing that you might get used to over the time and be able to do it quickly, but the cleaning process has to be easy.
Its capacity
Different juicers have a different capacity for making and storing the juice. If you have a larger family, then you might consider going for a juicer that can juice more fruits and vegetable in one go. In case you go for a smaller one while you have a family of more members, then you might end up cleaning the juicer multiple times for making juice for all.
Your budget
This is perhaps the most important thing of all. Your budget is going to decide which type of juicer you will go for as not all are going to fit in if you have a tight budget. The centrifugal ones are available for a budget price while the masticating(slow squeezing) ones can be a little more expensive for the features they offer.
Best Fruit & Vegetable Juicers Available in India
Now that you have decided the type of juicer you want based on the things mentioned above, we can head to the list of some of the best juicers currently available in the market. Have a look:
1 Philips Viva Collection HR1863/20 Juicer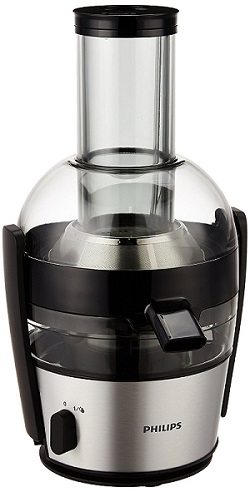 1) As you'd already know, Philips is the king of the kitchen and home appliances and their juicer is no different.
2) The thing is made out of aluminium for a sturdy feel that is here to stay in your kitchen for long.
3) It is a 700-watt juicer that has a total capacity of 2 liters, of which, the juice jug is of 800 ml and the rest is of the pulp container.
4) It takes just 1 minute to clean this juicer and the company is also including a warranty of 2 years.
5) Here is a beautiful looking centrifugal juicer.
Check Cheapest Price : Amazon
---
2 Philips HR1832/00 Juicer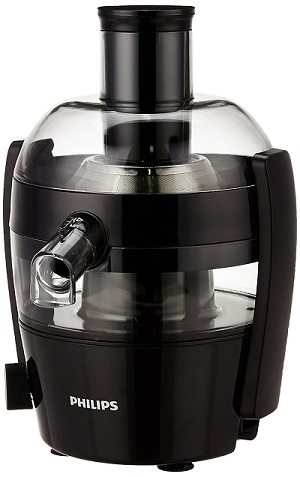 1) Capable of juicing almost any kind of fruit or vegetable, this juicer from Philips will come handy most of the times.
2) Just like the previous one, this juicer can also be cleaned within a few seconds.
3) Its storage capacity is a bit lesser though.This one has a storage capacity of 1.5 litres and is also made out of plastic.
4) Its motor is rated at 400 watts which is quite enough for all kind of fruits and vegetables.
Check Price : Amazon
---
3 Bajaj JEX 16 Juicer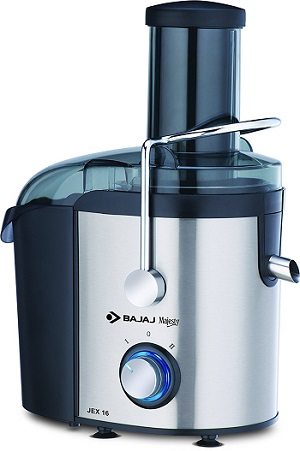 1) Bajaj has its own offering for people looking for an even better price for a decent juicer.
2) This is an 800-watt juicer that is available for a low price , which is just amazing for a product of this category.
3) For the design, the company went for a more conventional approach.The juicing mesh of this juicer is made out of metal for the best results.
4) This machine offers you two speed modes and the containers are cleanable quite easily.
5) For the price it is offered at, the juicer is a great deal. Bajaj has also thrown in a warranty of 2 years to sweeten the deal.
Check Price : Amazon
---
4 Prestige PCJ Centrifugal Juicer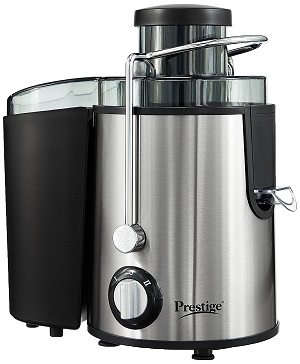 1) There are chances that you are one of those with a much tighter budget, much like the most of the buyers.
2) For those, Prestige has a great option that offers a variety of features for a price that is affordable. This juicer would work for almost any kind of fruit or vegetable.
3) One of the best features of this juicer is its safety mechanism that won't allow the juicer to start unless it is properly locked.
4) The 500-watt motor would be quite sufficient and the juicer has a fairly large storage capacity. You can grab one of these on Amazon today.
Check Price : Amazon
---
5 Philips HR 1855 Viva Collection Juicer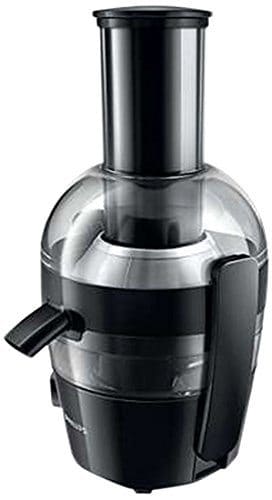 1) Coming straight from Philips, this is one of their newer models that improves upon the features and capabilities of their previous ones.
2) At a glance, you will find a more modern looking juicer that will just steal the charm of your kitchen. It comes with a powerful 700-watt motor.
3) The pulp from the juice you'd extract will collect in a separate bin allowing for an easy disposal.
4) You will be getting a juice capacity of 800 ml that would be quite enough for a nuclear family.
5) For this price , you will be getting this amazing juicer that comes with a brand warranty for 2 years.
Check Price : Amazon
---
6 Pigeon Pure Slow Juicer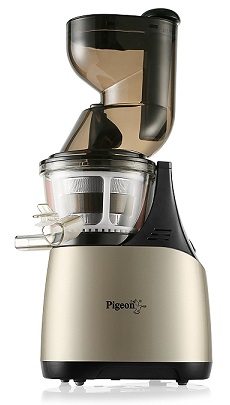 1) Slow juicing brings a lot of features with itself and this juicer from Pigeon has it all.
2) It is perfect for any kind of fruit or vegetable be it leafy or otherwise, this juicer can juice them all.
3) It runs at 75 to 100 RPM which ensures maximum juice extraction.
4) What's interesting here is that fact that the company is giving a warranty of 5 years which is unmatched.
5) The juicer has a 150W motor for that slow juicing and needs to be assembled properly to start functioning which is a great safety feature.
Check Price : Amazon
---
7 Panasonic MJ-68M Centrifugal Juicer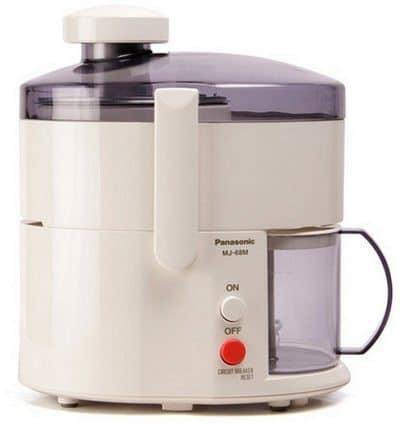 1) For a more conventional looking juicer, Panasonic has a worthy option for you.
2) This is, of course, a centrifugal juicer that should be quite good for most kinds of vegetables and fruits.
3) The juice container is made out of plastic but the internal spinner is made out of stainless steel.
4) It has a 220W motor that can spin the juicer at 12,500 RPM.
5) It has a couple of buttons making it extremely easy to operate and function.
6) The cleaning of the juicer isn't difficult at all. Available for this price , it would be hard to find a better alternative.
Check Price : Amazon
---
8 Wonderchef Compact Cold Press slow Juicer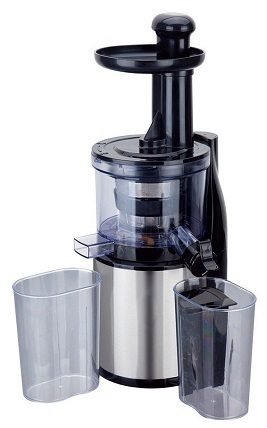 1) A whole lot is going on with this giant juicer with a tall industrial design. Wonderchef is known for its kitchen appliances that are not only durable but are also functional better than the others.
2) This juicer from the company is a slow juicer which means you are going to have the best juicing experience.
3) Its 200-watt motor ensures much more yield than a conventional juicer. Moreover, its motor doesn't make much noise juicing.
4) So, what you get is a perfectly made juice with least amount of wastage and least noise as well.
Check Price : Amazon
---
9 Premsons Slow Juicer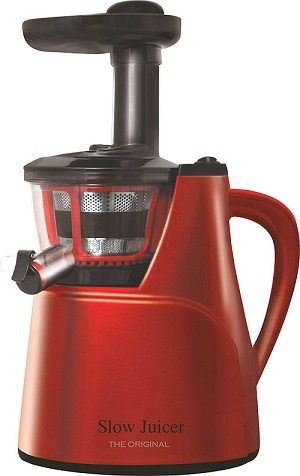 1) First, let's talk about the price this slow juicer is available at. This slow juicer is available at a price around 6k, which is a price that you usually hear for centrifugal juicers.
2) The Premsons slow juicer has a very distinct look with that striking red colour on the outside.
3) Apart from red, it is also available in more conventional colours. This juicer is great for extracting even the last drop of juice from the fruits and vegetables while running at a speed of 43 RPM.
4) It also packs a robust safety mechanism to ensure you are not harmed while using it.
Check Price : Amazon
---
10 Glen GL4016 Juicer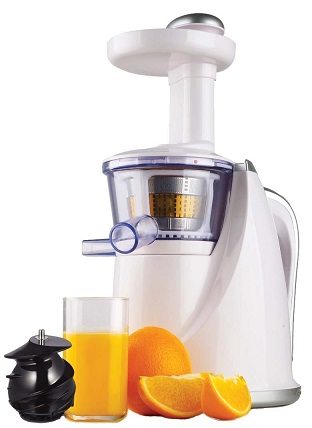 1) More on the higher prices segment, this slow juicer from Glen is an absolute must in a modern home.
2) A juicer with slower RPM means the fruits and vegetables will be properly extracted for highest yield while maintaining their vitamins and minerals.
3) It has a motor of 150W which is ideal for a slow juicer and it also doesn't make much noise.
4) The storage capacity of the juice container is 300ml. being really easy to clean, you can start over with another round of juicing when the container is full.
Check Price : Amazon